Contact:
Dipl.-Geoök. S. Müller
Dipl.-Phys. T. Ziems
---
The wind and its energy content are subject to strong temporal and local fluctuations. So it is very important to own reliable statements about the wind energy  potential.
At sites with complex flow conditions the results of a computer simulation are often afflicted with high uncertainties so that they should be confirmed by an at least one year lasting supporting measurement and comparing considerations on long time measuring data.
Wind measurements and wind profile measurements are a service offered by WIND-consult.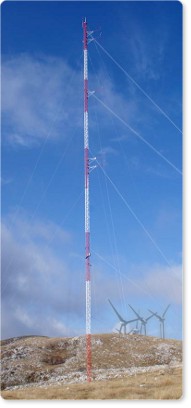 For this measuring masts with the wanted respectively required height are erected at the site and equipped with sensor technology and data logger.
For the measurements of the wind speed cup anemometers calibrated according to MEASNET are used (cf. Calibration of anemometers). The logging of the wind direction is carried out by means of a potentiometric wind vane.
The measured values are collected by a data logger, prepared and stored temporarily. The data transmission is carried out by means of a GSM modem.
As an alternative remote sensing devices like LIDAR or SODAR can be used.
The compression, preparation and evaluation of the measured data is carried out with an application created by WIND-consult for the data collection and evaluation program for measuring data DIADEM.
The results are summarized in a measuring report:
Daily and monthly average values, mean daily curves and frequency distributions
Mean wind field parameter (wind speed, wind power, Weibull parameter and wind energy potential)
Graphic and tabulated representation of the wind speed and wind directional frequency and energy distribution
Optional
Determination of wind potential and energy production of WT based on one year measurement data
Subsumption of the short-term measured data into long-term streams of data