Periodical inspection
Commissioning inspection
Guarantee acceptance inspection
Contact:
Dipl.-Ing. (FH) R. Lieckfeldt
B.Eng. R. Weiß
---
For the planning permission of a wind turbine (WT) a single or type inspection is necessary. According to the stipulation listed in the planning permission, the safe operation of the wind turbines has to be guaranteed, e.g. by regular inspections. These inspections are usually planned in a two to four year period as visual inspection. Inspections with regard to the acceptance of the WT by the owner (commissioning inspection) and before the end of the guarantee period (guarantee acceptance inspection) have a special importance.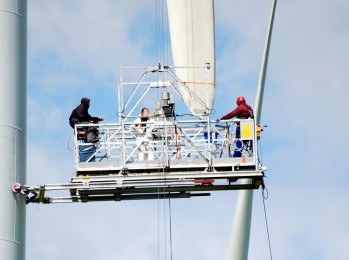 The inspection of the wind turbine offers certainty about the technical condition of the WT to the owner and all other involved persons. The periodical inspection has to be carried out by an expert, who has all important information and technical documentation. Employees of WIND-consult are active as experts of the Germanischer Lloyd WindEnergie (GL Wind) and trained adequately. They prepare inspection reports for commissioning and guarantee inspections and for periodical inspections of WT.
Basis of these inspections is chapter 11 of the guideline of the GL Wind for the certification of wind turbines. Inspection reports of the GL Wind are respected by the regional authorities.
WIND-consult is a member in the experts committee of the Bundesverband WindEnergie e.V. (BWE).
The following tests are part of the minimum range of an inspection, unless otherwise claimed in the type inspections.
Rotor blades
Drive train
Machinery house and working and moment transmitting components
Hydraulics and pneumatic system
Tower and foundation
Security devices, sensor technology and brake systems
System control and electro-technics including transformer and control unit and the insight into the system documentation
Regular inspections of the wind turbine help to detect damages early and avoid consequential damages.
All inspections are carried out in the presence of service personnel of the manufacturer. The inspection of the rotor blades is carried out by means of a working platform, which is sufficiently dimensioned according to height and security.
The noted defects and mistakes are described in an inspection report and documented by photographs. The report contains statements for the further operation of the WT and offers information on how to avoid possible consequential damages. The detected defects are noted in the inspection report and recommendations for the further operation of the WT are given by the inspector.