Contact:
Dipl.-Ing.(FH) T. Kleinselbeck
Dipl.-Ing.(FH) R. Lieckfeldt
B.Eng. R. Weiß
---
The certification of a turbine type requires the verification of the stability proof of the rotor blades by natural frequency tests and static or dynamic load tests. The extent of these tests is specified in the certification guidelines
IEC WT01 "System for conformity testing and certification of wind turbines – Rules and procedures,
Richtlinie für die Zertifizierung von Windkraftanlagen der Germanischen Lloyd,
Dansk Standard DS 472, Technical Criteria for the Danish Approval Scheme for Wind Turbines
and in the IEC 61400-23 "Full-scale structural testing of rotor blades for WTGSs".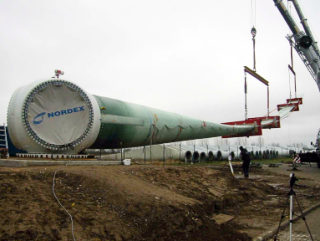 The metrological implementation of a blade test includes the measurement of the occurring strains, the measurement of the load transmission via load cells, the determination of the angle displacement at the fixing point as well as measurements of the temperature.
The application of the DMS is carried out by trained employees (according to VDI/VDE-GESA 2636) with continuative experience in the application of fibre composites.
The installation of the signal processing (bridge amplifiers, measuring transducers, …), the cabling of the measuring points and the signal logging is based on measuring experiences of many years in the field of load measurements according to IEC 61400-13.
The data logging system based on the measurement data logging- and processing program DIADEM is able to collect 128 channels (strains, loads, angles, temperatures …) with a sampling rate of 50 Hz, to allocate and visualize online as control monitor.